Puzzle Play Set: PLAYTOWN
Three Chunky Books and a Giant Jigsaw Puzzle!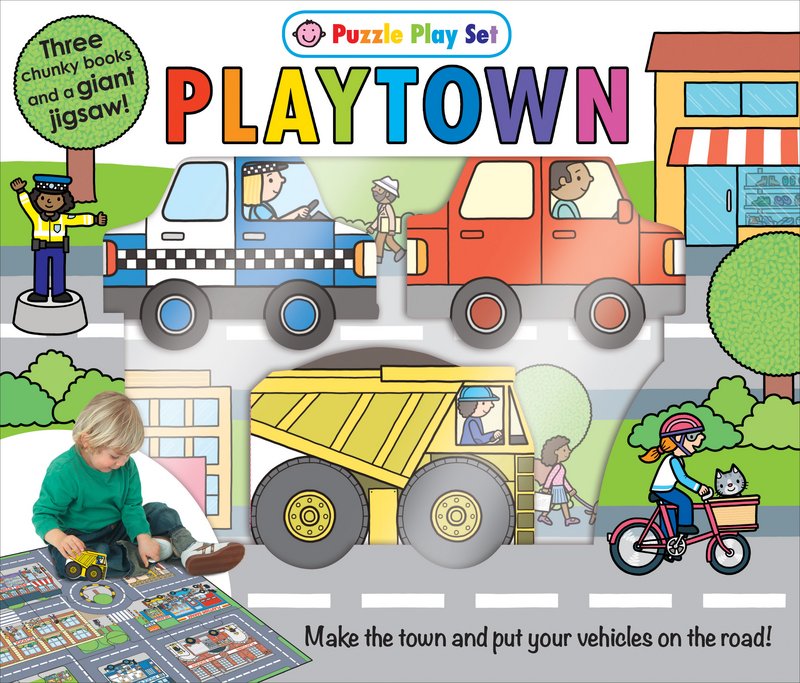 Priddy
Available: 10/10/17
9.75 x 11.24 · 10 pages
Ages 2-5 years
9780312525118
CDN $26.99 · bh

Buy the Book
+ Amazon.ca
+ Chapters.Indigo.ca
+ Independent Retailers
print

This Playtown play set from Roger Priddy comprises three vehicle-shaped books and a giant 9-piece jigsaw puzzle, all packaged neatly in a colorful presentation box.

The Playtown set includes three little board books (Car, Dump Truck, Police Car), each individually shaped, and a jigsaw puzzle playmat to build and play on.

The durable, jigsaw pieces slot together into a road scene and the vehicle-shaped books can be played with as well as read! Each book is a mini story with bold illustrations.

This set will help build early skills through interactive play.

Roger Priddy's passion for educating children through fun, informative and engaging books has led him to create some of publishing's most enduring and successful nonfiction early learning books. Bestselling titles include First 100 Words, Bright Baby Animals, and Alphaprints: ABC . Roger lives in London and has three children, who have been the inspiration behind many of his best publishing ideas.