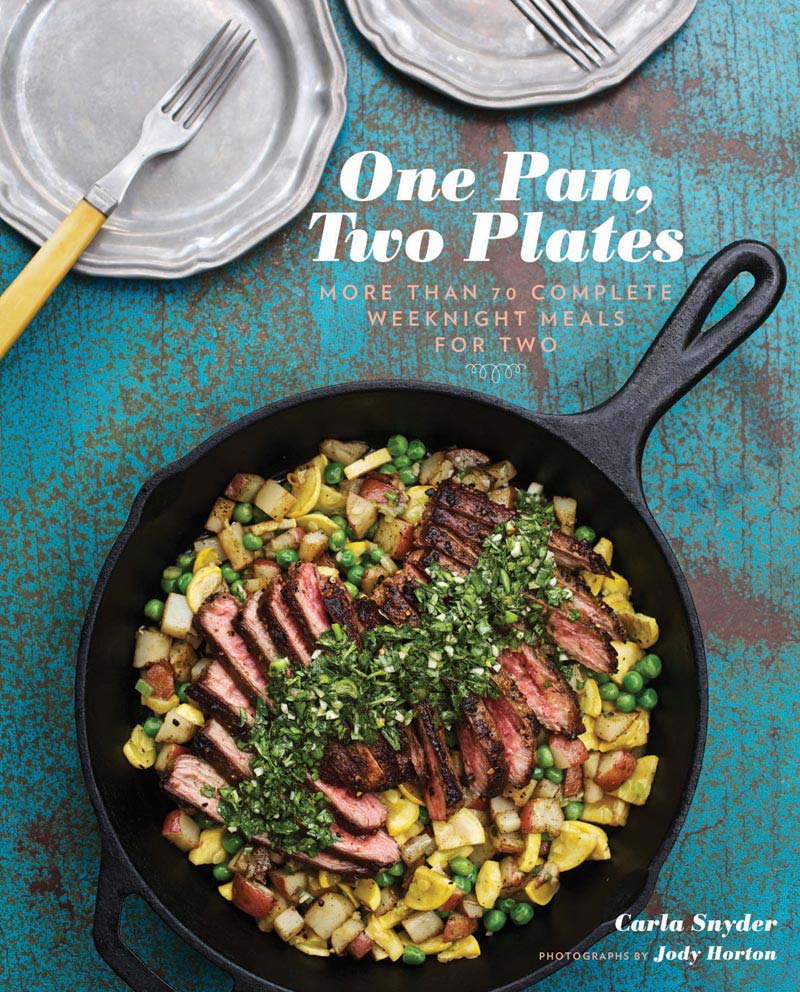 Chronicle Books
Available: 03/05/13
8.25 x 10.25 · 208 pages
9781452106700
CDN $40.95 · pb

print

One Pan, Two Plates
More Than 70 Complete Weeknight Meals for Two
One pan + fresh ingredients = dinner for two!

For fans of the simple cooking approach heralded by Half Baked Harvest, Magnolia Table, and Milk Street Cookbook, Carla Snyder's cookbook for two provides inspiration for weeknight exploration with more than 70 recipes specially created to fill exactly two plates with wholesome and delicious meals.

With an emphasis on reducing prep time and the usual sink full of dishes, cooking instructor Carla Snyder serves up the ideal couple's guide to simple, complete, and truly delicious meals that can be made in one skillet, in less than 60 minutes.

COOKING FOR TWO MADE EASY: Imagine healthy and fresh meals like Balsamic Braised Chicken Thighs with Figs and Creamy Polenta, Thyme-Rubbed Salmon with Shallots and Caramelized Cauliflower Risotto", or Catfish Tacos with Chipotle Slaw made simple enough for a weeknight dinner or date night right at home.

TASTY OPTIONS & EXPERT GUIDANCE: With a wide range of options, it's easy to spring from what you already have on hand. Recipes for home-cooked pasta, grains, sandwiches, beef, pork, chicken, and seafood are included, plus wine or beer pairings for each dish.

BETTER TOGETHER: From newlyweds to empty nesters, there is something for everyone in this one-pot-meals cookbook filled with tasty and easy-to-prepare recipes couples can make together in an hour or less. One Pan, Two Plate s makes a delightfully tasty gift that encourages quality time spent in the kitchen.

Perfect for:- Engagement, wedding, or housewarming gift for couples
- Home cooks seeking easy meal prep cookbooks to expand their repertoires from cooking for one to cooking for two or a small family
- Fans of Carla Snyder and her popular cookbooks, including One Pan, Two Plates: Vegetarian Suppers and One Pan, Whole Family
- For beginners and seasoned cooks alike: excellent collection builder alongside the best cookbooks from Julia Child, Ina Garten, Yotam Ottolenghi, and Smitten Kitchen

"