Woke
A Young Poet's Call to Justice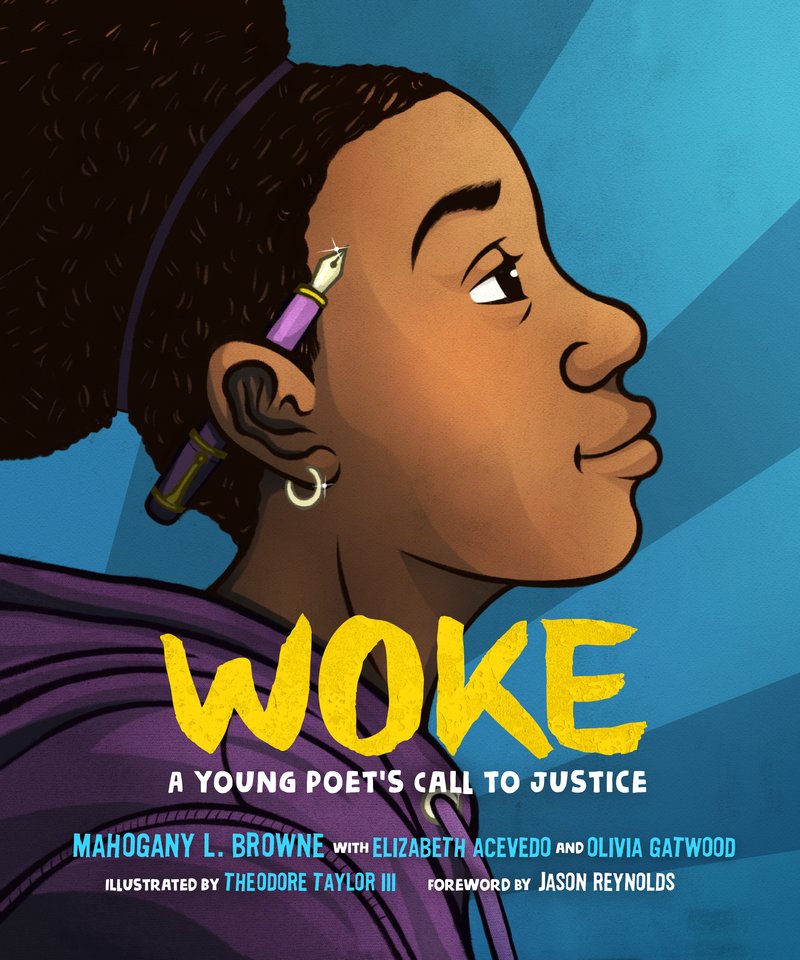 Roaring Brook Press
Available: 03/10/20
9.28 x 11.37 · 56 pages
Ages 8-12 years
9781250311207
CDN $26.99 · cl
Picture book

Buy the Book
+ Amazon.ca
+ Chapters.Indigo.ca
+ Independent Retailers
print

This collection of poems by women of color covers topics relating to social justice, activism, discrimination and empathy, focusing on the need to speak out and inspiring middle-graders." - Vogue

Woke: A Young Poet's Guide to Justice is a collection of poems to inspire kids to stay woke and become a new generation of activists.

Historically poets have been on the forefront of social movements. Woke is a collection of poems by women that reflects the joy and passion in the fight for social justice, tackling topics from discrimination to empathy, and acceptance to speaking out.

With Theodore Taylor's bright, emotional art, and writing from Mahogany L. Browne, Elizabeth Acevedo and Olivia Gatwood, kids will be inspired to create their own art and poems to express how they see justice and injustice.

With a foreword by best-selling author Jason Reynolds.

Mahogany L. Browne: The Cave Canem, Poets House and Serenbe Focus Fellow alum is the author of several books including Swag & Dear Twitter: Love Letters Hashed Out On-line, recommended by Small Press Distribution & listed as About.com Best Poetry Books of 2010. She has released five LPs and is co-founder of Brooklyn Slam (currently ranked 2nd in the world) and has toured Germany, Amsterdam, England, Canada and recently Australia as 1/3 of the cultural arts exchange project Global Poetics. Her journalism work has been published in magazines Uptown, KING, XXL, The Source, Canada's The Word and UK's MOBO. Her poetry has been published in literary journals Pluck,Manhattanville Review, Muzzle, Union Station Mag, Literary Bohemian, Bestiary Brown Girl Love and Up The Staircase. She is the Artistic Director of Urban Word NYC (as seen on HBO's Brave New Voices) and facilitates performance poetry and writing workshops throughout the country. She is the publisher of Penmanship Books, curator & FridayNight Slam host at Nuyorican Poets Cafe, and Program Director of BLM@Pratt Institute. She also is a recipient of an Agnes Gund Art for Justice award. Elizabeth Acevedois the New York Times bestselling author of With the Fire on High and National Book Award-winning novel The Poet X . She holds a BA in Performing Arts from The George Washington University and an MFA in Creative Writing from the University of Maryland. She resides in Washington, DC with her partner. Olivia Gatwood has received national recognition for her poetry, writing workshops, and work as a Title IX Compliant educator in sexual assault prevention and recovery. She is a finalist at Brave New Voices, Women of the World and the National Poetry Slam. Olivia has been featured on HBO, Huffington Post, MTV, VH1, and BBC, and she has performed internationally at over two-hundred schools and universities. Originally from Albuquerque, New Mexico, she now lives in Boston, Massachusetts. Olivia's poetry books include Woke, Life of the Party, and New American Best Friend .