Dream Big, Little Pig!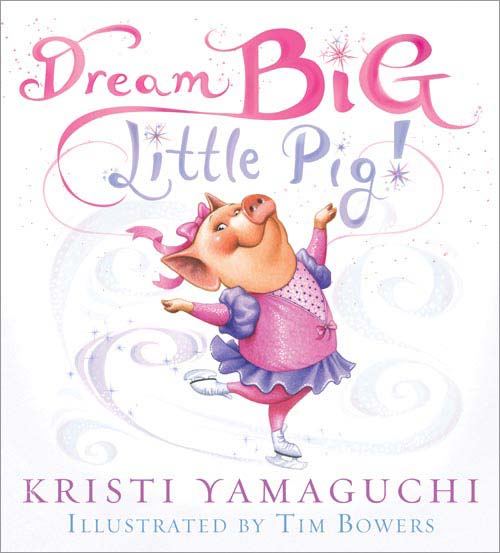 Sourcebooks
Available: 03/15/11
9.56 x 10.77 · 32 pages
Ages 4-8 years
9781402252754
CDN $25.99 · cl

Buy the Book
+ Amazon.ca
+ Chapters.Indigo.ca
+ Independent Retailers
print

Inspire kids of all ages to never give up and always dream big with Dream Big Little Pig, the New York Times bestselling ice skating picture book from Olympic gold medalist Kristi Yamaguchi!
Poppy is a waddling, toddling pig with big dreams. She wants to be a star! But she soon discovers that's not as easy as it sounds. It's only when Poppy feels the magic of gliding and sliding, swirling andtwirling on ice that our most persistent pig truly believes in herself: Poppy, star of the rink!
Follow your
Dreams!"
"You go, Girl!"
"Dream Big, pig!"
Dream Big Little Pig is the perfect book to inspire little girls with big dreams, and makes a wonderful ice skating gift for girls.
"
Following her figure skating victories at the 1992 Winter Olympics and World Championships, Kristi skated professionally for more than a decade. This past year, Kristi Yamaguchi's Friends and Family TV special aired on NBC for the fourth straight year and she was a winner of ABC's Dancing with the Stars. Visit www.kristiyamaguchi.com.
Even at a young age, Tim Bowers's artwork reflected a strong sense of humor and an interest in animals. Prior to illustrating children's books, Tim worked as an artist for Hallmark Cards, helping to launch the popular Shoebox Greetings card line. He has illustrated more than 25 children's books and garnered various awards including the Chicago Public Library's Best of the Best" list. His artwork has been included in the Society of Illustrators Annual Art Exhibition and the S.I. Humor Exhibition, as well as featured in children's magazines and used on a wide variety of products. Tim lives in Granville, Ohio. Contact him at www.timbowers.com
"