Quidditch Through the Ages - Illustrated Edition
A magical companion to the Harry Potter stories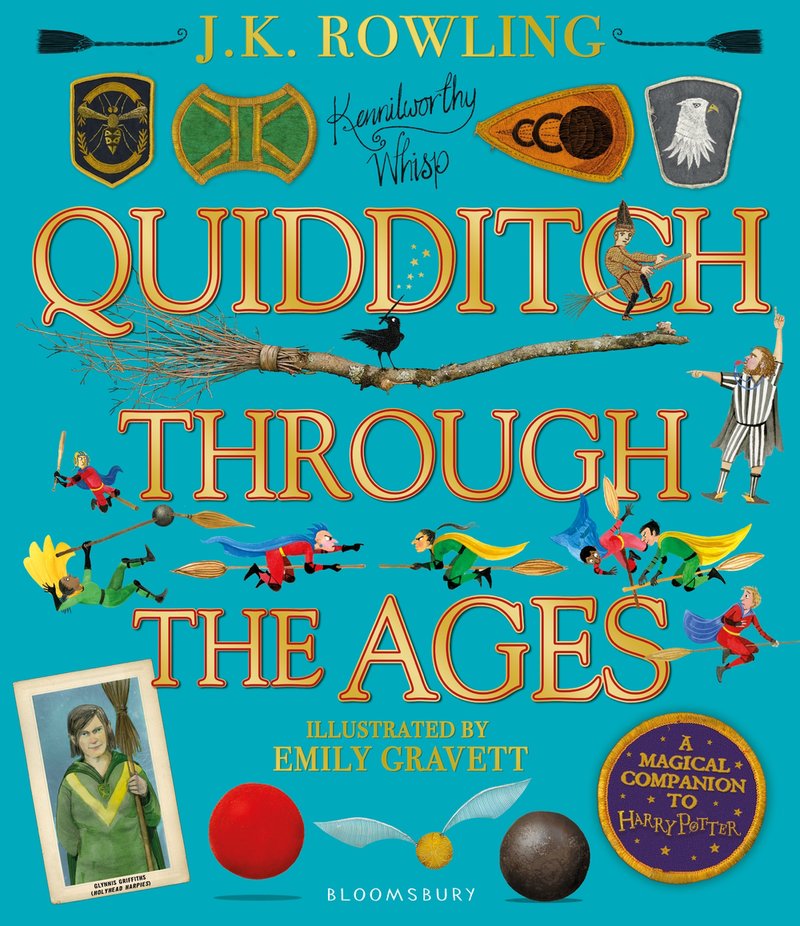 Bloomsbury
Available: 10/06/20
9.94 x 11.68 · 160 pages
Ages 9 years and up
9781526608123
CDN $45.99 · cl
With dust jacket

Buy the Book
+ Amazon.ca
+ Chapters.Indigo.ca
+ Independent Retailers
print

Get ready to learn everything you need to know about the sport at the heart of Hogwarts! Quidditch Through the Ages is the essential companion to the Harry Potter series, a funny, fact-packed fantasy history of the seriously competitive wizarding sport. Bursting with glorious illustrations, magical memorabilia and two super-sized fold-outs, this spectacular new full-colour edition pairs J.K. Rowling's witty, inventive text with Emily Gravett's incredible artistic imagination.

Devoured by Harry Potter in his first year, and consulted on a daily basis by the young witches and wizards at Hogwarts, Quidditch Through the Ages whisks readers on a whistle-stop tour through the game's hilarious (and often foul) history. There's magic and wonder in equal measure for both newcomers to the Wizarding World and established Harry Potter fans.

Packed with trivia, tales of on-pitch antics, and Quidditch stars past and present - this is a great gift for the whole family. Quidditch Through the Ages is published in aid of Lumos, an international children's charity founded in 2005 by J.K. Rowling, and Comic Relief.

J.K. Rowling is best known as the author of the seven Harry Potter books, which were published between 1997 and 2007. The enduringly popular adventures of Harry, Ron and Hermione have gone on to sell over 500 million copies, be translated into over 80 languages and made into eight blockbuster films. Alongside the Harry Potter series, she also wrote three short companion volumes for charity: Quidditch Through the Ages and Fantastic Beasts and Where to Find Them, in aid of Comic Relief and Lumos, and The Tales of Beedle the Bard, in aid of Lumos. J.K. Rowling collaborated with playwright Jack Thorne and director John Tiffany to continue Harry's story in a stage play, Harry Potter and the Cursed Child, which opened in London in 2016 and is now playing worldwide. In the same year, she made her debut as a screenwriter with the film Fantastic Beasts and Where to Find Them, the first in a series featuring Magizoologist Newt Scamander, which was inspired by the original companion volume. J.K. Rowling has also written a standalone novel, The Casual Vacancy, and is the author of the Strike crime series under the pseudonym Robert Galbraith. Both have been adapted for television. In 2020 J.K. Rowling returned to publishing for younger children with the fairy tale The Ickabog, the royalties from which she is donating to groups affected by the Covid-19 pandemic. She has received many awards and honours, including an OBE and a Companion of Honour for services to literature and philanthropy. She lives in Scotland with her family. Emily Gravett is an award-winning children's author and illustrator who lives in Brighton, England. She is the winner of the Kate Greenaway Medal for Wolves and Little Mouse's Big Book of Fears.