Moth
An Evolution Story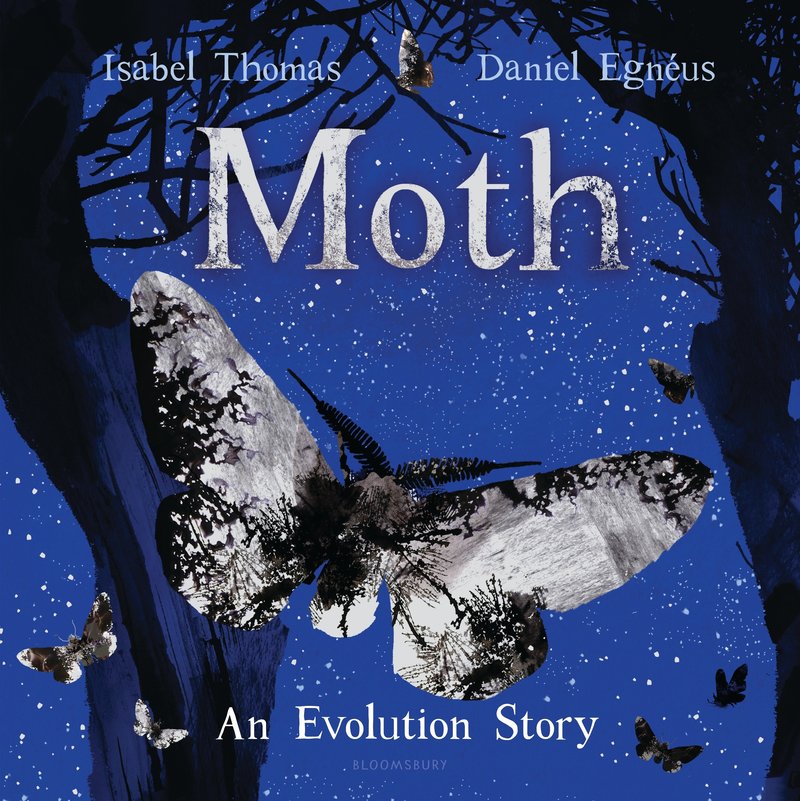 Bloomsbury
Available: 06/25/19
10.12 x 10.02 · 48 pages
Ages 6-10 years
9781547600205
CDN $24.99 · cl
With dust jacket

Buy the Book
+ Amazon.ca
+ Chapters.Indigo.ca
+ Independent Retailers
print

A rare pleasure . . . a true story of adaptation and hope." - Wall Street Journal


Powerful and visually spectacular, Moth is the remarkable evolution story that captures the struggle of animal survival against the background of an evolving human world in a unique and atmospheric introduction to Darwin's theory of Natural Selection.

"This is a story of light and dark. . . "

Against a lush backdrop of lichen-covered trees, the peppered moth lies hidden. Until the world begins to change. . .

Along come people with their magnificent machines which stain the land with soot. In a beautiful landscape changed by humans how will one little moth survive?

A clever picture book text about the extraordinary way in which animals have evolved, intertwined with the complication of human intervention. This remarkable retelling of the story of the peppered moth is the perfect introduction to natural selection and evolution for children.

A 2020 AAAS/Subaru SB&F Prize for Excellence in Science Books Finalist!
A School Library Journal Best Book of 2019!
A Horn Book Best Book of 2019!
A Shelf Awareness Best Book of 2019!

Isabel Thomas is a science writer and the author of a galaxy of books for young audiences. They include Moth: An Evolution Story, illustrated by Daniel Egneus, which won the AAAS/Subaru Prize for Excellence in Science Books. She also writes for science magazines including The Week Junior Science + Nature and creates STEM outreach resources for organizations such as the Wellcome Sanger Institute and the BBC. Isabel studied Human Sciences at the University of Oxford and Education Research at the University of Cambridge. www.isabelthomas.co.uk |@isabelwriting Daniel Egneus is a prolific artist who has illustrated numerous books, including several Neil Gaiman titles. He was voted Best Illustrator by the Association of Illustrators in 2005, and his picture book, Lubna and Pebble, (written by Wendy Meddour) was chosen by TIME Magazine as one of the 10 best picture books 2019. He is based in Athens.