It's a Little Book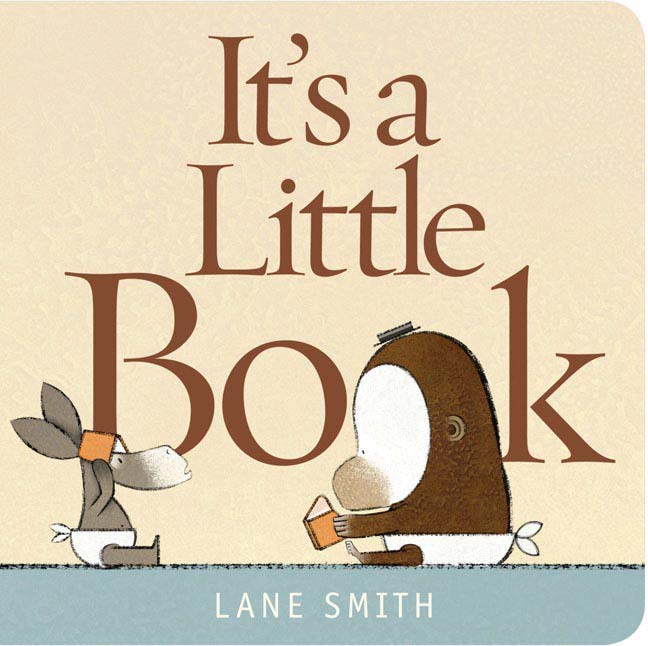 Roaring Brook Press
Available: 08/30/11
6.02 x 5.88 · 24 pages
Ages 12-24 months
9781596437586
CDN $8.99 · bh

Buy the Book
+ Amazon.ca
+ Chapters.Indigo.ca
+ Independent Retailers
print

Now in diapers! For the youngest of readers who still prefer to chew on a book rather than read it, It's a Little Book asks what a book is for - Is it for chewing? Is it for wearing? - and answers the question in a warm and charming way. As funny and captivating as the bestselling It's a Book, It's a Little Book promises to delight a new generation of readers.

Lane Smith has written and illustrated a bunch of stuff, including the Kate Greenaway Medalist There Is A Tribe of Kids, and A Perfect Day .

He is also the author of the middle-grade novel Return to Augie Hobble, as well as author and illustrator of Caldecott Honor book Grandpa Green and runaway New York Times bestseller It's a Book which has been translated into over twenty languages. His other works include the national bestsellers Madam President and John, Paul, George & Ben . His titles with Jon Scieszka have included the Caldecott Honor winner The Stinky Cheese Man ; The True Story of the 3 Little Pigs ; Math Curse ; and Science Verse . Lane's other high profile titles include Hooray for Diffendoofer Day! by Dr. Seuss and Jack Prelutsky; The Very Persistent Gappers of Frip by George Saunders; Big Plans by Bob Shea; and James and the Giant Peach by Roald Dahl. In 1996, Lane served as Conceptual Designer on the Disney film version of James and the Giant Peach .

In 2012, the Eric Carle Museum named him a Carle Artist for lifelong innovation in the field of children's picture books," and in 2014, he was awarded the lifetime achievement award from the Society of Illustrators. He lives in rural Connecticut with the designer Molly Leach.
"