It's Time to Talk (and Listen)
How to Have Constructive Conversations About Race, Class, Sexuality, Ability & Gender in a Polarized World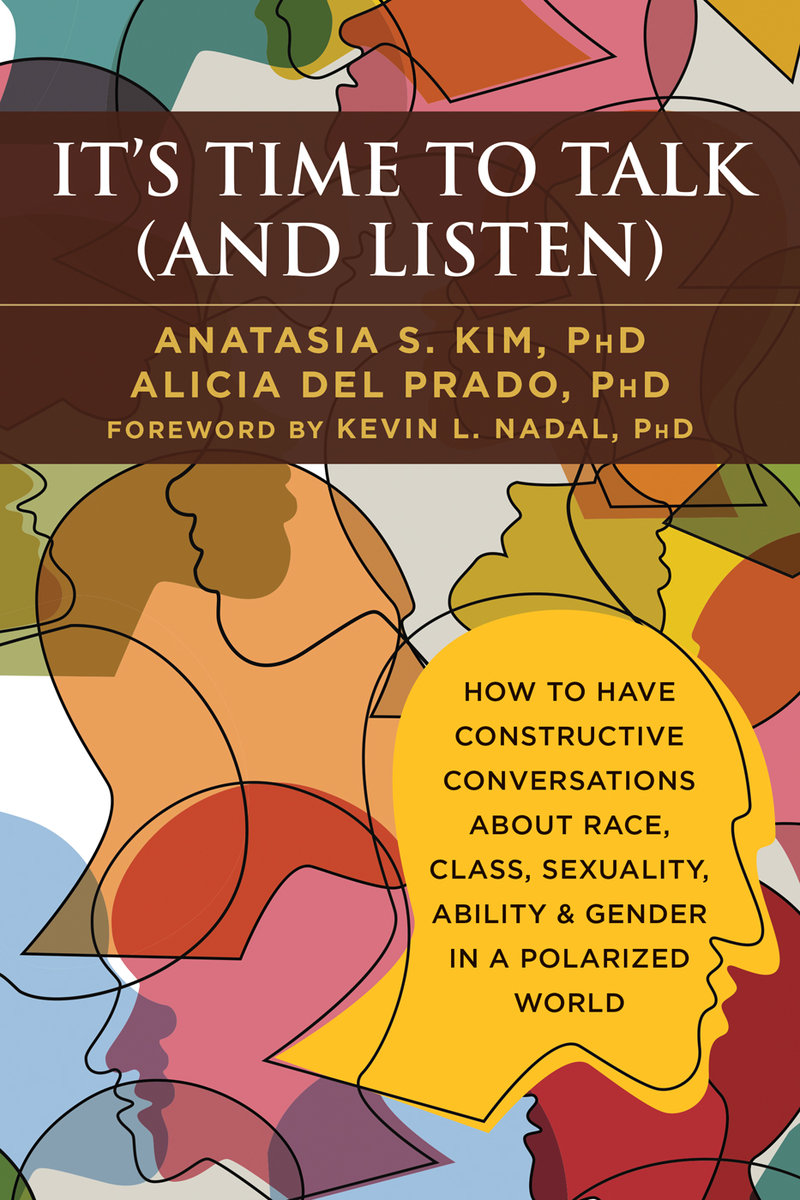 New Harbinger Publications
Available: 07/01/19
6 x 9 · 224 pages
9781684032679
CDN $25.95 · pb

Buy the Book
+ Amazon.ca
+ Chapters.Indigo.ca
+ Independent Retailers
print


Conversations about controversial topics can be difficult, painful, and emotionally charged. This user-friendly guide will help you engage in effective, compassionate discussions with family, friends, colleagues, and even strangers about race, immigration, gender, marriage equality, sexism, marginalization, and more.
We talk every day-and we often do it without thinking. But, as you well know, there are some things that are harder to talk about-especially issues pertaining to politics, culture, lifestyle, and diversity. If you've ever struggled in a conversation about a controversial" topic with a loved one, work colleague, or even a stranger, you know exactly how uncomfortable and heated the discussion can become. And even if you are one of the lucky few that expresses themselves eloquently, how do youmove beyond mere "lip service" and turn words into actionable change?
This groundbreaking book will show you how to get to that important next level in difficult conversations, to talk in an authentic and straightforward way about culture and diversity, and to speak from the heart with tools from the head. Using a simple eight-step approach, you'll learn communication strategies that are supported by research and have been practiced in classrooms, work meetings, therapy sessions, and more.
We constantly hear about friends and colleagues whose family members are not speaking to each other because of different political opinions, who've exchanged words that have mutually offended one another. If silence is one end of the continuum and verbal conflict anchors the other, how do we reach a middle ground? How do we take part in the "in between" spaces where both parties can speak and listen?
With this book as your guide, you'll learn to navigate these difficult conversations, and take what you've learned beyond the conversation and out into the world-whether it's through politics, social justice movements, or simply expanding the minds of those around you.

"

Anatasia S. Kim, PhD, is a tenured associate professor at The Wright Institute in Berkeley, CA, where she also has a private practice specializing in treating adolescents and young adults. She is a National Ronald McNair Scholar and the recipient of numerous awards, including the American Psychological Association Minority Fellowship, Okura Mental Health Fellowship, and APAGS Guardian of Psychology Award. Kim has served as president of the Alameda County Psychological Association, chair of the California Psychological Association (CPA) Immigration Task Force, and diversity delegate of the CPA. She has presented and published in the areas of cultural competence and training, immigration, women of color in academia, and more.

Alicia del Prado, PhD, is a tenured associate professor at The Wright Institute in Berkeley, CA, and a licensed counseling psychologist with a private practice in Danville, CA. She has published numerous journal articles and chapters on cross-cultural psychology; personality; acculturation; and ethnic identity, including the first enculturation scale for Filipino Americans; and provides consultation and trainings on multicultural issues to companies and colleges. del Prado is chair and cofounder of the Asian American Psychology Association's (AAPA) Division on Asian Americans with Multiple Heritages, and was awarded both the Alameda County Psychological Association's Janet Hurwich Award and the AAPA Okura Community Leadership Award.

Kevin L. Nadal, PhD, is professor of psychology at both John Jay College of Criminal Justice, and the Graduate Center at the City University of New York. He received his doctorate in counseling psychology from Columbia University. Nadal's research focuses on the impacts of microaggressions on the mental and physical health of marginalized groups.