No Reading Allowed
The WORST Read-Aloud Book Ever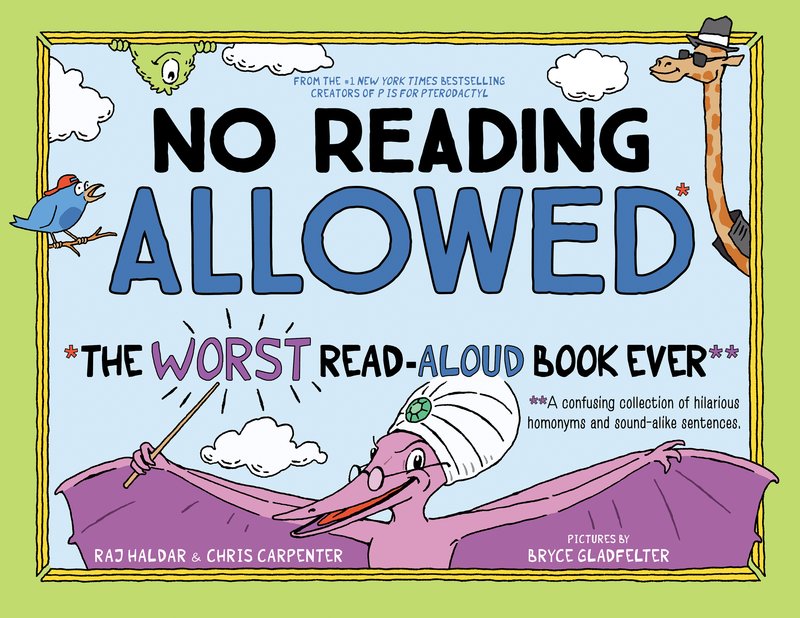 Sourcebooks
Available: 11/10/20
11.36 x 8.57 · 48 pages
Ages 4-8 years
9781728206592
CDN $24.99 · cl
Picture book

Buy the Book
+ Amazon.ca
+ Chapters.Indigo.ca
+ Independent Retailers
print

A new, hilarious picture book for kids from the #1 New York Times bestselling authors of P IS FOR PTERODACTYL!
What makes this picture book for kids be THE WORST read aloud book ever? Try reading these sentences aloud:
The mummy prepared farro for dinner.
The mummy prepared pharaoh for dinner.
Sounds the same, right? But they're totally different! Kids will laugh at the irreverent, super silly humor and witty illustrations that provide context clues and help explain the outrageous sentences. While kids are cracking up at you repeating yourself, they also will be learning about homonyms and homophones! There's also a glossary to help explain the sound-alike words.
This hysterical book for kids is sure to delight parents, teachers, and anyone who loves to laugh at the absurdity of the Englishlanguage.
Those who love wordplay are the natural constituency for No Reading Allowed: The Worst Read-Aloud Book Ever, a picture book that's bright with comic scenes. . . [and] brilliant pairings of picture and word (and word with word)." - The Wall Street Journal
"If you're a logophile (=word nerd), grammar geek, or a bookworm, and especially, if you're a teacher or homeschooler, snag a copyof No Reading Allowed for yourself and a friend. This will be a hot holiday gift for us word nerd folks!" - Imagination Soup

Better known by his stage name Lushlife, Raj Haldar is an American rapper, composer, and producer from Philadelphia, PA. He's also the #1 New York Times bestselling author of P Is for Pterodactyl. Connect with him on Twitter @lushlifemedia.
Chris Carpenter is a software developer for a tech startup in New York.
An adventurer at heart, Bryce Gladfelter honed his skills in the arts during hours spent drawing on trains and buses, people watching in markets, and wandering the natural world. Bryce's illustrations are featured in magazines and product labels around the US. He currently resides in Philadelphia, PA.