2022 Amy Knapp's Big Grid Family Organizer Wall Calendar
August 2021-December 2022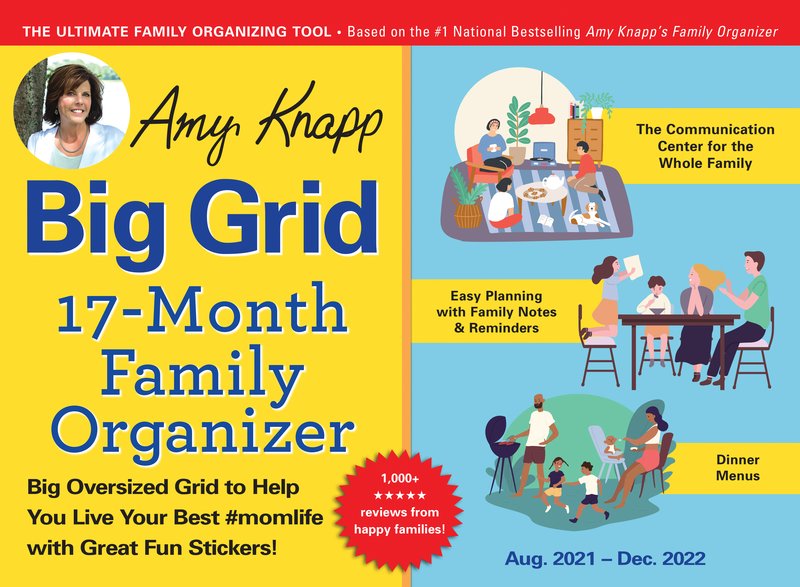 Sourcebooks
Available: 05/01/21
15 x 11 · 40 pages
9781728231242
CDN $22.50 · wc

Buy the Book
+ Amazon.ca
+ Chapters.Indigo.ca
+ Independent Retailers
print

Get big organization for more big family fun with this essential big grid wall calendar!
Live your best #momlife and take family organization to the next level with a 2022 large hanging calendar based on the #1 national bestseller from Amy Knapp! A comprehensive organization and communication tool for every busy household, this all-inclusive 17-month jumbo calendar features monthly inspiration and a big-grid design to keep track of family activities, weekly schedules, and long-term planning - plus color-coded stickers and helpful tips and reminders each month. Know where everyone is at a glance and never again forget an important note, date, or event so you can get back to what truly matters - together time with family!
17-MONTH WEEKLY FAMILY PLANNER (AUGUST 2021 - DECEMBER 2022)
Features:
- Extra-large grid with plenty of writing space for planning projects and tracking appointments, birthdays, school outings, and other important events
- 15 x 11" trim size with wire-o spiral binding for sturdy hanging on walls or refrigerators
- Over 225 stickers and reminders for hardworking moms and dads
- Over three pages of tear-off lists in the back for weekly grocery shopping, meal planning, and to-dos
- Environmentally responsible, FSC certified and smudge-free paper
- Simple design for tracking bill-paying, shopping, chores, and all the details of daily life with tools for planning vacations, holidays, and back-to-school
- The perfect format for assignments and building your own homeschool planner
- Find important phone, school, and emergency numbers quickly
- Keep vital medical information handy for everyone in the family
- Monthly motivationalquotes and affirmations
- Holidays, moon phases, and observances
- Year at a glance

"
Amy Knapp created her Award Winning Family Organizer products to help her navigate the busy schedule of having a child with special needs. Since its launch in 1999, Amy Knapp's Family Organizer has helped over half a million families organize their lives. With the expansion of her line, there is a planner for everyone! Amy lives in Kalamazoo, Michigan with her highly-organized family.